| | | | | | | | | | |
| --- | --- | --- | --- | --- | --- | --- | --- | --- | --- |
| | | | | | | | | | |
.
COWARDLY RATS….
As I woke up,
To the things I do not want to do!
I am very tired of trying,
To do the best that I can do!
But many times I have failed,
And I only gave up!
For what is inside of me,
Is tired of giving up!
But I find myself,
Having nothing to do!
Just spending my time in the Heavens,
And thinking of the Moon!
But the ones who are around me,
Are telling me not to give up!
Life is more important,
Than just to give up!
But as I wonder about the time I am spending,
Trying to convince others not to give up!
Because times are only going to get tougher,
Where you will want to give up!
And as the ones who control your Nation,
They want all of you to give up!
And take your own life into your own hands,
So that they can easily control us when most of us are gone!
We have to be a Force Field,
And never let them penetrate our Faith!
For we need to come together,
And take care of our own mistakes!
We have been sleeping for a long time,
Where the rats have come in!
And they have devoured all of our Monetary System,
Where we see our children dying today!
And as we sleep on the streets,
They are sleeping in their Mansions!
That cost Hundreds of Millions of dollars to build it,
While letting the poor die outside of it!
And the ones who are getting richer,
They only want to steal more every day!
While every Law Enforcement Agency,
All of them are involved in the Wall Street Market Scheme!
So where can we go to get help,
When the police will hate your face!
And where will you go for help,
When your children will die of starvation today?
And will you go for help,
When the IRS is there to take your place!
And where will you go with your children,
When it is time to lay them to bed to sleep?
For the World that I do live on,
I do not want to wake up each day!
For the humans are such a coward,
They will let their own children die this way!
And the ones who do the sleeping,
The rats will grow bigger each day!
Where one day they will own the World,
With their New World Order they have chewed away….
.
.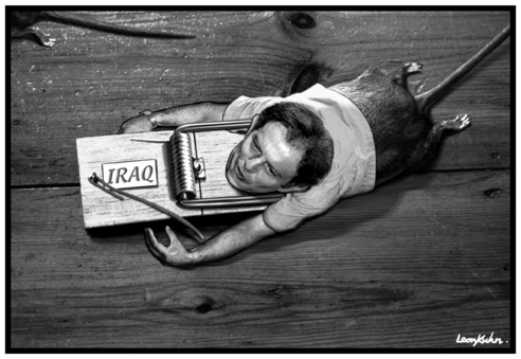 IT IS TIME TO EXTERMINATE THE RATS INSIDE THE NEW WORLD ORDER....
PHOTO DRAWN BY LEON KUHN! PLEASE CLICK HERE, TO VISIT HIS WEBSITE....
.
WRITTEN BY, I, ON, 12/28/11, 6:36:PM
COWARDLY RATS POEM HAS NO COPYRIGHTS, AND IS HEMP FREE FOR PUBLIC DOMAIN USE. BUT, IF YOU USE THIS POEM, FOR SONG LYRICS, ECT., PLEASE WRITE, "WRITTEN BY; THE ONE WHO CARES, ABOUT YOU...."
COWARDLY RATS WITH THEIR NEW WORLD ORDER....

"PLEASE TRANSLATE MY WORDS, INTO YOUR LANGUAGE, AND PUT YOUR NAME, ON YOUR POEM, AND POST YOUR POEM ALL OVER, THE WORLD...."
"PLEASE DO IT, WITHOUT TRANSLATING IT...."
Written by the President of !

No Copyrights©2011
No Copyrights are for the whole World to read AND TO USE….